People of the world, cover your damn mouths when you cough or sneeze. This is non-negotiable. You wouldn't pull your panties to the side and queef syphlitic spume into a crowded room, you wouldn't put your thumb halfway over an arterial bleed and spray blood on to people like it's champagne at a wet-t-shirt contest, so why do you think it's okay to slump over in a crowded subway car with your mouth gaping and your arms dangling at your sides while you, like, plumb the alveolar depths? You're creating tiny airborne droplets of mucus and saliva. Cover your mouth. Because I said so.

I got to practice what I preach this weekend: I had a little bit of a cough, probably pollen-related (I spent all Friday rolling around on grassy knolls and shit) and almost nonexistent as far as Health Concerns go, but still excuse enough to try out the Chinese pharmacy. I've drunk vats of Chinese herbal teas and tonics, and all Chinese food is designed to create the yin/yang body balance that is the basis of Chinese medicine, but I'd never sought a traditional Chinese treatment for a specific complaint, generally preferring my medicines to be made out of chemicals.

I told the shopkeeper I had a cough, and he asked "Is it wet?" Yes. "You've got too much heat in the body. You need to drink something to remove it." Prescription: "five flower tea," which five flowers he pulled from drawers and custom-mixed. Directions: brew in a rice bowl for two to three minutes, add sugar, and drink. (Edit: an Anonymous poster just revealed to me that I drastically misunderstood the shopkeeper's directions, which were delivered mostly in Chinese, sign language, and the occasional phrase in English. Anonymous says: "you're supposed to boil that thing in a clay pot with 3 bowls of water, bring to a boil, simmer until the liquid reduces to a cup, strain and drink. That's how I've been instructed." That would explain why my tea tasted a lot like the prebrewed herbal tonics I've bought in herbal tonic shops, but mine was much, much lighter in color. Informed comments add so much richness to this Livejournal. I really appreciate that.)Cost: HK$20=US$2.55.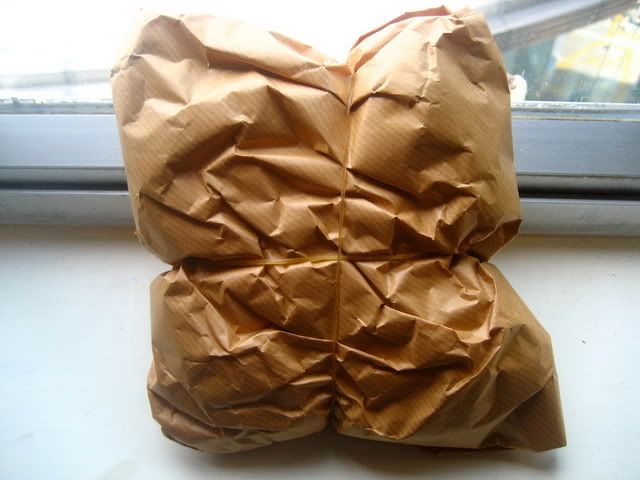 The package has tiny dried chrysanthemums, big furry blossoms with woody hips like roses, yellow daisyish things, green chammomileish things, and a couple huge clumps of Humboldt county high grade. I thought this shit was supposed to help me not cough!