Oh. An appalling and hopeless Sunday-afternoon ennui warshed over
elysesewell. Paris is all cold and rainy; yesterday I walked by a book-crammed flea market and hatched the wild scheme to find an English-language book and spend the entire weekend lolling around my apartment, draped over the space heater, reading. "Even if it's Stephen King, I'm sure somebody will have at least one English-language book to satisfy my lazy weekend needs!" An hour later I was still scrabbling through grimy secondhand French novels thinking, "Even if it's Danielle Steel...even if it's the Bible...must read a book tonight." Found nothing. Well, I did find something, but couldn't quite bring myself to commit 3 Euros and a Saturday night to Napoleon and Josephine: Biography of a Marriage. Merde!

I was forced to come home and scrutinize every single word of an ancient British tabloid left behind by a previous apartment occupant. I also tortured myself with some French MTV. Attention, French rappeuses: you suck. A bit of dog shit dropped on top of a Casio beat does not a legitimate gangsta jam make. You and le posse are thugging on foot through the baroque-ass "ghettoes" of suburban Paris, you don't have whips or nines or wet, so what the hell are you rapping about? Bling? Beef? I guess Bitches is the only gangsta topic left. But on the subject of Hoez, I would rather hear the subliterate Akon mewling, "Smack that ass, out on the floor / Smack that ass, 'til you get sore" than bump to Les Psy 4 de la Rime (ha!).

Several people rushed to the defense of the German pickle-flavored Lay's that I dissed. So today I tried the French "Mustard Pickle" version. Ugh, toxic caustic yellow salt licks. Left me with burning thirst and burning question: What zee fuck it's means, "pickle"?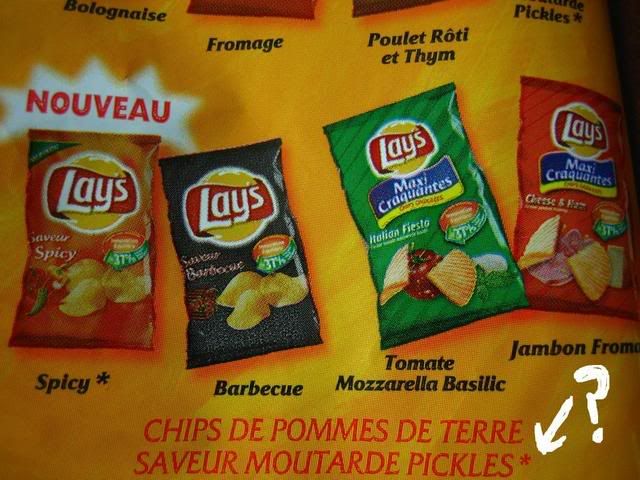 Luckily the packet was footnoted.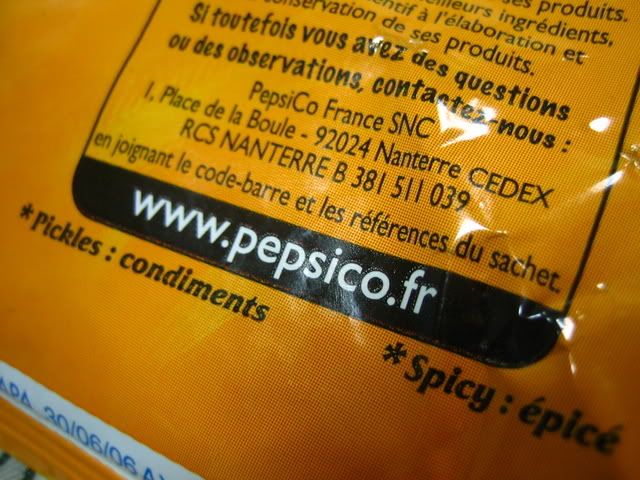 (In France, the minature cucumbers soaking in jars of brine are called "concombres" [cucumbers], "cornichons," or, as in Great Britain, "gherkins." Europe, if you can believe it, is an entire continent full of people oblivious to the charms of the John Holmesish "Hot Mama Dill Pickle" available at truck stops across the Land of the Free).

Sometime during my epic struggle to translate the all-French anthropology exhibits at the Musée de L'Homme, I realized it's so much easier to enjoy the Picasso Museum. Don't need to speak French to understand the exuberant hilarious message of my favorite sculpture: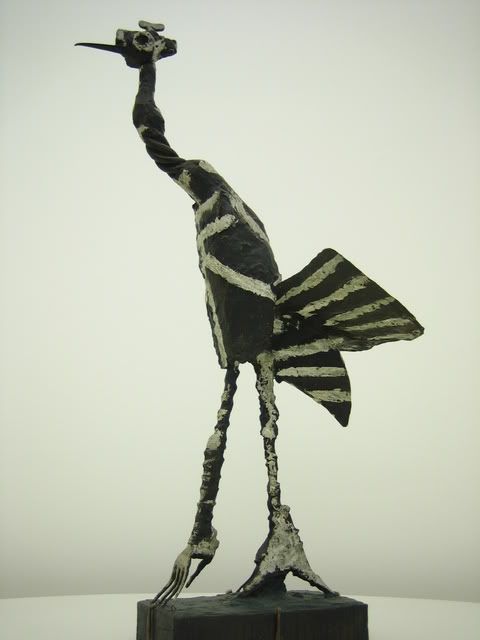 And finally, this picture is a blurry piece of crap, but I believe it contains an urgent message to any young man out there considering sacrificing his dignity upon the altar of male modeling.