I was supposed to have this big job in Hong Kong at the end of April, but the client cancelled it (if in fact the job ever existed at all; it's impossible to tell whether the agency is lying about it). So I'd been planning to leave town for weeks but couldn't blog about it because, against my better judgement ("What if I get there and knock on the front door, and see ten Puerto Rican tranny hookers running out the back door?") and the advice of my mom ("What if you get there and he hasn't changed his sheets in two months? You must give him a chance to wash the sheets!"), I decided to fly to Portland unannounced and surprise my boyfriend.

I had to endure the pain of an epic long-haul flight and the psychological trauma of seeing people around me watch freaking America's Next Top Model Cycle 1 on the seatbacks in front of them: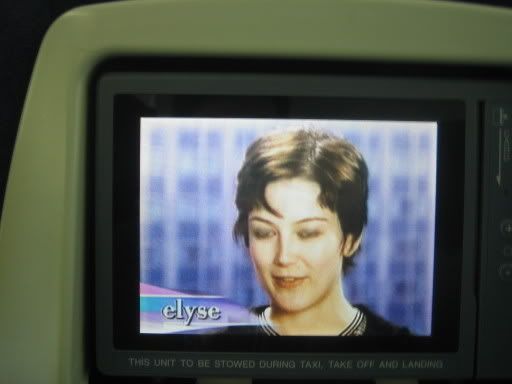 It was almost midnight when the Ethiopian/Oregonian cab driver asked me if I was heading to my family's house. "No," I said, "I'm going to my boyfriend's and I'm a little nervous because he doesn't know I'm coming, so if he's not there I don't really know, well, I guess I'll just go try to call him, and...oh god, that's his car pulling out of the driveway! He's leaving the house right now!"

The cabdrived floored the accelerator, shrieking, "Block him! Block him!" and indeed squealed into the foot of Marty's driveway in time to keep him from pulling out into the street.

It was awesome.

Furthermore, the sheets were clean, there wasn't a fleeing tranny hooker to be seen, and Marty was just on his way to the convenience store for Tecate to drink while he played Guitar Hero. So there you have it. I ended up booking the same round-the-world ticket I'd planned before my HK agency asked me to postpone my departure for their ephemeral job, so I'll be on the fruited plain for another two weeks or so before going to Europe.

By the way, my countrymen, it's been eight months since I've been here, and I just love what you've done with the place! Chicken fries? "I'm N Luv (Wit a Stripper)"? Snakes on a Plane? Majestic! Our country is truly crunker than it has ever been.