Mandarin pop enthusiasts, I have a favor to ask of you: does anyone recognize the first song in this video (it starts at about :20)? Can you hook up the title and artist, or an mp3? Sorry to make you click through, but this is coming from the Chinese Youtube and I can't find the embed code. [Video via ChinaSMACK]
EDIT: I got it! Thank you,
ic70492.

Dance performance video.

I first heard that song in Shanghai, in the bathroom of a KFC where I was pit stoppin'. By the time I realized what a monster jam it was, it was already over, and I scrambled up to the counter calling my agent to explain to her that I wanted her to explain to the cashier that I wanted to know the name of the song or see the CD they were playing in the store. My heart was already sinking, knowing it wasn't going to work (I know through firsthand experience that, when you can't see the stereo, "Please write down the name of the song that was playing before this one" is almost but not quite impossible to communicate via charades). It didn't work, of course: the guy behind the counter told Juju who told me that he hadn't heard the song and there wasn't a CD player (it was Muzak, I guess). I left, frustrated. But then I heard the song again in this video and now I have a chance to find it and put it in my iPod and rock to it until my heart stops.

And while I'm using my Livejournal to get stuff that I want, gimme revenge on Go Sushi in Causeway Bay, home of the most abominable sushi I've had outside of Boise, ID. I will not apologize for ordering a melted cheese-topped shrimp tempura roll; I have no patience for sushi purists. Wrap some seaweed around some pork floss and birthday cake, sprinkle salmon eggs and glitter on top: you have made legitimate maki. A "cheese-topped shrimp tempura roll" sounds good; this partially-combusted slice of wanksta petroleum loaf was just a carcinogen. It tasted like ashes. And that roe corona you see in the top right corner was a California roll which was dry and did not cohere and fucking blew: Go Sushi, we got BEEF.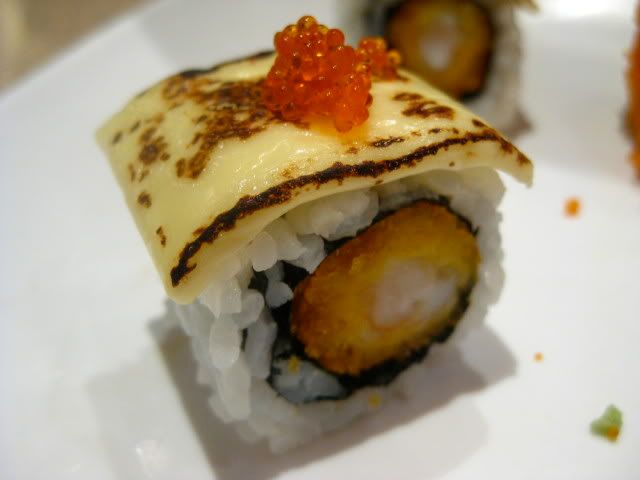 I approached this Free Giftwallah on two separate occasions to get the Free Gift I deserve and didn't understand why she wouldn't fork over the Gift (a juice box or a chocolate Hanukkah gelt) or even make eye contact with me. I finally figured it out tonight when I saw other people doing it right: you only get the Gift after you've stepped onto the (up only) escalator. At the summit, surprise surprise, you're trapped in a labyrinth of a mall and must shop your way back to ground level.