My Hong Kong agency emailed me: "Elyse, we have castings for you, we have jobs for you; we're waiting for you to get your ass down here, thanks." I arrived in Hongers an hour ago; my heart was breaking to leave Shanghai this afternoon, but oh my god, I'd forgotten that Hong Kong has about a million billion charms of its own. I'd been in China for so long, and now...I'm not in China any more. I've got a mild case of the bends. No more anarchic traffic, no more xie xie, no more blatant gawping (both at me and by me), no more lack of cheese, nose picking must now be done furtively. No more manageable hair. No more tiny televisions blaring tinny commercials in taxicabs. No more loogie-slimed sidewalks. No more US$5 massages. Cantopop instead of Mando-pop. No more Mandarin, dammit! This morning in Shanghai I bumped into a dude on the sidewalk; I wheeled around and apologetically bowed my head at him, eyes downcast, hand up at forehead level, palm out, as I backed away. He did the exact same gesture at me, perfectly synchronized, perfectly mirrored, totally, totally Chinese. No more of that. Then on the plane there was a squalling baby; my Honger seatmate and I glanced at each other for just an instant, but long enough for us each to flex a bitchy, sympathetic eyebrow. Now more of that!

Goddamn, I'm having a good Year of the Ox so far. I don't really have anything organized to say, but I just wanted to post something to celebrate my emergence from behind the Great Firewall of China. As I have mentioned before, access to Livejournal.com is blocked within China; I've been updating my blog by using a sluggish proxy server on the already godawfully slow apartment internet connection. It took FOREVER to post something, FOREVER for other people's Livejournals to load, I couldn't preview anything, and it was hard to reply to comments, especially when the comment I wanted to reply to was not the original post in a thread. But now I can access LJ directly and online life is easy again, so if you asked a burning question sometime during the last two months and I never replied, try asking again here. I expect to enjoy a lot of slack-jawed computer slumping in the coming few days, not least because of the fast and free internet connection: my new Hong Kong hovel is fucking PALATIAL and I never want to leave. Not only is it huge compared to my usual HK cribz, but the furnishings obviously predate the arrival of IKEA in Hong Kong, so there are none of the instantly recognizable [*] pieces (The Cheapest Wardrobe in IKEA, The Cheapest Bed in IKEA, The Cheapest Chair in IKEA, Those Cheap IKEA Mugs) with which I am so familiar via models' apartments worldwide. Unlike the claustrophobic shithole I occupied last summer, this one-room manse boasts a place to sit besides the bed (A MINIATURE LOVESEAT!), a place to eat besides the bed (A COFFEE TABLE!), a desk broader than my forearm, and no dimension narrower than my wingspan. There is also a wok and the TV is not mounted on a metal arm over the bed. I am gagging with joy!

[* Is there a word that means "related to furniture"? Analogous to "sartorial"? I feel like there is. Edit: supellectile! Thanks!]

OK, it's bedtime, but not before I upload some China action for your eyeholes. Ah, viva la high-speed connection.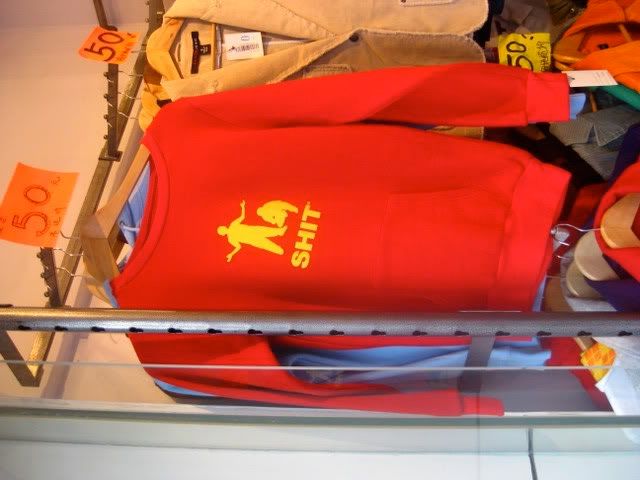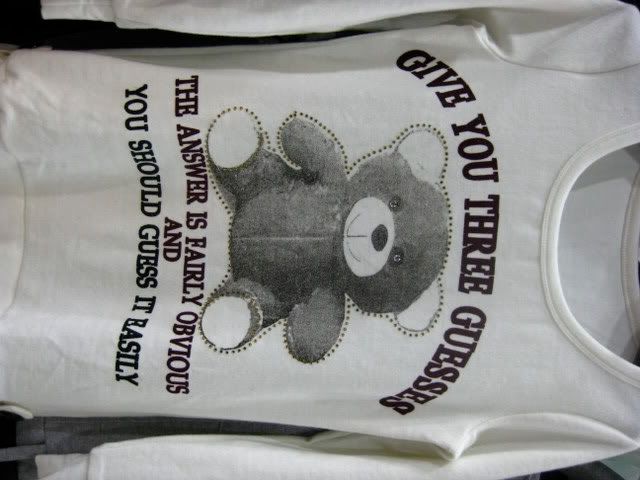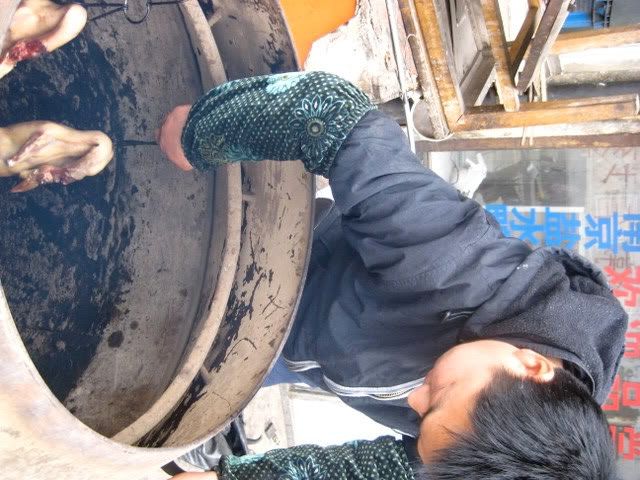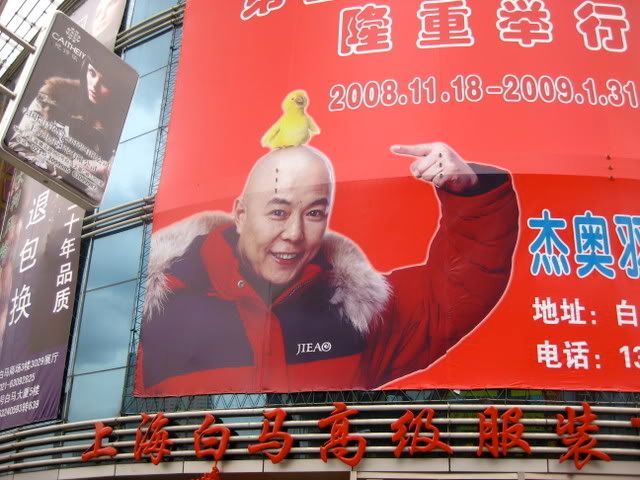 At every intersection on my Shanghai street is a small phalanx of motorcycle taxis. The drivers lounge all day on their bike seats, hammock style, waiting for someone to engage their services. I took pics of a few of them as I walked out of the 'hood this morning, found a photo kiosk, made prints, and distributed them on the way back. So awesome. I wish I'd had that idea weeks ago.