The rock tour is over and the Australian vacation has begun. For the first time in two weeks, that sweet golden WiFi is flowing through my veins, and I'm torn between the desire to gratify my chemical dependency on Livejournaling, and the urgent need to go eat oysters on the beach with my boo. Compromise: an entry written in great haste but studded with INCREDIBLE A-LIST CELEBRITIES! HOLY SHIT!



So, the Chai Wan Industrial City Canteen in Hong Kong makes a mean lunchbox of braised mushrooms and bok choy. I ordered it for dinner at my job in Hong Kong: delicious. We finished shooting, I collected my suitcase and proceeded immediately to the airport to catch an overnight flight to Tasmania and meet the Shins for the first date on their Australian tour, the Falls Festival in Marion Bay. I could tell something was afoot in my stummie but didn't know exactly what until we were all in the van, driving past a fucking dirty portable toilet on the festival grounds, and I felt the irresistible impulse to leap out of the car, sprint to the Porta-Potty, and violently puke up intact bits of braised mushrooms and bok choy that had been stewing in their own botulistic juices for more than 24 hours. Awesome!

That was my third food poisoning (the others were in Argentina/Uruguay and Japan; what a glamorously globetrotting roster of vomit), but by FAR the worst; a definite contender against the high-school kidney infection for the Most Sick I've Ever Been In My Life Award. I spent the entire Falls Festival puking in the grass, the back of an ambulance, and the medical tent, and reached the lofty heights of a 103.8 degree fever before I got a shot of antiemetic and a fever reducer.

There's my excuse for the emphatic failure of this intended over-the-shoulder stealth shot of the Dandy Warhols, who were sitting behind me and Marty in the van on the way to the festival grounds. Just try to imagine them.




Ian Brown of the Stone Roses, courtesy of Marty's camera. If looking at these pictures ignites a desire in your bosom to hear this British band, my favorite jam is "She Bangs the Drum." Marty's is "Mersey Paradise."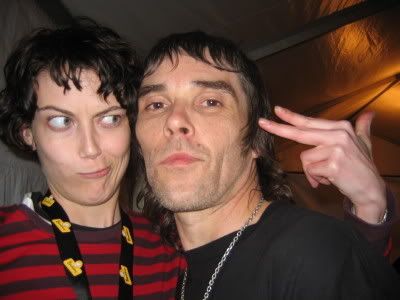 Aaaaand, the Shins' tour manager got married the day before yesterday. At the wedding? Heath Ledger y'all!

As everyone was going home, the Ledge came up to Marty to tell him that the Shins put his newborn baby to sleep like no other band. On the one hand: ooh, like, whatever, who the hell cares and shit? On the other hand: it was a very nice thing to say, delivered gracefully, and it made Marty feel great. Conclusion: I'm just jealous and should be slapped.